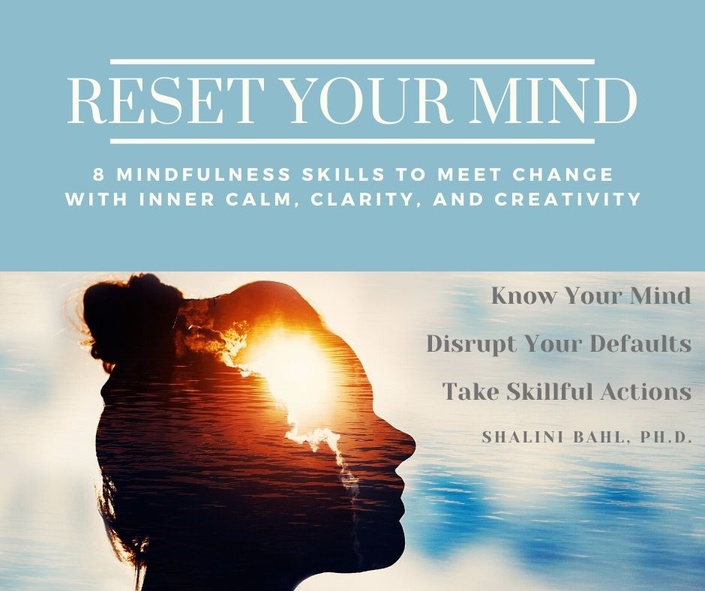 Reset Your Mind
8 Mindfulness Skills to Foster A Fulfilling Life and A Better World
Enroll in Course
Did You Know...
95% of your decisions are made unconsciously?*
In the absence of awareness, our unconscious minds dictate our thoughts, feelings, and behavior based on past conditioning.
By developing the eight qualities of mindfulness, you can breakthrough habitual patterns and make choices that are good for you, your loved ones, and the world around you. In a fast-changing landscape, these qualities of the mind are essential to thrive. They will not only change the way you work, but also your approach to personal fulfillment and developing and maintaining strong relationships.
Thank you for your interest in the Reset Your Mind program!
I am Shalini Bahl, and I created this program after receiving training from world-renowned mindfulness teachers, practicing mindfulness for thousands of hours, and teaching for over ten years in my community. The techniques that I am going to share with you are based on cutting edge research in neuroscience and psychology, ancient wisdom from Buddhist texts (though this is a secular course), and a personal search to integrate mindfulness into how we live, love, learn, and lead.
Don't take my word for it. See what others are saying about this program and better still, explore for yourself how these practices can benefit you.
What people are saying:
"I've worked with Shalini as her student in mindfulness classes since 2014. To say that she is an inspired, generous, compassionate and wise teacher would be the understatement of the year! Words fail to describe the gifts that Shalini has helped me nurture in my own life and those around me. I owe much of my spiritual, emotional and mental growth in the last 4 years to Shalini's inspired teachings. Her ability to bring mindfulness and the tenets of Buddhism in a secular, thoughtful and science-grounded manner into our community is nothing short of miraculous. I am immensely appreciative, honored and privileged to have had the chance to work with her as long as I have. I will continue taking classes and learning from Shalini for as long as she is willing to teach me!"
~Shiri, CEO & Founder at AuCoDe
"Laurie and I found that committing to this practice as a couple was very important for us as we continue to learn and grow after 34 years together. Shalini has taught us so much about meditation, insight and skillful actions that we try to incorporate into our lives. We find that having someone close to practice with does help reinforce the many benefits of mindfulness. Laurie and I are grateful to have practiced with Shalini as she is a wonderful teacher and an equally nice person. Mindfulness is a permanent part of our lives now."
~John, CFO at G.S. Precision, Inc
"Shalini has done The Work and is genuine as a teacher and facilitator. Her attention to class participants is extraordinary - listens, clarifies, inspires. She is masterful in her practical application of complex topics across a wide range of class/workshop participants. The Mindfulness program involves many layers of both Learning and Personal Development. Shalini has the grace and wisdom essential to teach this type of program."
~Richard, Adult Learning Consultant
"I just finished a six session Executive Series at Downtown Mindfulness with Shalini Bahl. My health depended on learning meditation and stress reduction techniques. My life drastically improved from additional lessons Shalini taught me. I often and highly recommend Shalini to friends who are stressed out; who have an interest in self-improvement; and who'd appreciate that greater perspective translates into greater success. Shalini's class benefited me most by implementing reminders in my daily life that make me more thoughtful about the potential impact on other people of my words and actions. People I work and socialize with have remarked that they recognize in me a greater calm since I became a student of Shalini's. I'm grateful for the life-changing perspective she shared."
Cinda, President W.D. Cowls
"Wonderful meditations that are helping me to bring more mindfulness to my work, which is very stressful at the moment. I am able to be more relaxed and confident, bringing my natural curiosity outward and focusing less on the stress around all that I have to do. Thank you!"

~Michelle, Simple Habit User
"For several years the emotions of fear and anxiety towards building my business I thought were from myself. That I had failed and was incapable. My eyes were just opened!!! When I began my business I was all in and loving it. Someone I was working with disrupted that momentum and I became extremely distracted. I didn't fail! I'm not incapable! I ALLOWED someone to make me feel that way and I believed it was ME! I am sobbing for the time I've lost but moving on now!"
~Wendy, Simple Habit User
"I think Shalini has an uncanny understanding of the human mind. How else could she identify the causes and effects of something seemingly obscure, like procrastination. Thank you Shalini."
~Eileen, Simple Habit User
This Program Is For You If:
You are feeling stressed or overwhelmed.
You would like to cultivate the skills to navigate change and challenges with ease, clarity, and creativity.
You have been practicing mindfulness but feel stuck in habitual patterns of reactivity.
You would like more energy and joy in your life.
You would like to be able to integrate mindfulness in everyday life.
You took the mindfulness quiz and would like to cultivate the 8 mindfulness skills.
You have been meditating but feel something is missing in your practice.

Or you want to continue to deepen your experience and practice of mindfulness.
In this course, you will:
Systematically cultivate eight qualities of the mind essential to living with fulfillment, control, creativity, and joy.
Learn the nuances of mindfulness and meditation.
Cultivate insights that allow you to reset your patterns of thinking and reacting.
Take daily actions that slowly change habits that don't serve you.
Be part of a community of people motivated to live mindfully.
Have access to a teacher with fifteen years of experience as a practitioner, a mindfulness researcher, and certified mindfulness teacher with training from some of the best teachers and institutions in the US.
Receive access to high-quality audio guidance for daily meditations on your computer or smartphone via the Teachable App, with over 35 total meditations and at least two options for each meditation: a 10 minute practice and a 30 to 40 minute practice, allowing you to maintain the consistency of meditating even if you are busy.
How is this program different from other mindfulness programs?
More Than Awareness: This program breaks mindfulness down into eight qualities of the mind that you will be systematically developing. Mindfulness is more than just stress-reduction, awareness, and focus. For example, you will be developing qualities such as energy, appreciative joy, and balance, which are not typically emphasized in other mindfulness programs.
More Than Meditation: This program is more than just daily meditations. Real change happens when we also cultivate insight to see the bigger picture and the consequences of our actions, while also using these insights to change our behavior and act more skillfully.
Daily Reminders: You will receive daily reminders by email with daily meditations, tips and prompts for cultivating insight and thinking, speaking, and acting more skillfully.
A Secular Program: If you have already taken the popular Mindfulness-Based Stress Reduction (MBSR) program and would like to continue to deepen your understanding and integration of mindfulness in a secular way, this program allows you to do that.
Combining Wisdom In Mindfulness With Science: This program is grounded in teachings from original mindfulness texts backed by research in neuroscience, psychology, and management. Read my published and award winning research here.
Practice Anytime, Anywhere: You will receive daily emails with links to the guided meditations, reflection prompts, and tips. You can practice mindfulness anytime, anywhere. The companion Teachable App for your smartphone gives you access to this entire course in an organized, day-by-day layout with all of the meditations, prompts, and tips included right in the app itself.
Daily Actions: The focus of this program is to take small steps and make tangible progress each day by encouraging you to think and take actions that are more productive, positive, and aligned with your goals. This will energize and motivate you to keep practicing.
A teacher with the highest level of mindfulness certifications and more than 15 years of experience: I have studied, practiced, researched, and taught mindfulness for many years. I have learned from some of the best teachers and have received certification from leading institutions in the US, including the Center for Mindfulness at UMass Medical School and The Search Inside Yourself Leadership Institute (which established a mindfulness-based emotional intelligence program at Google).
How Did I Come Up With This Framework?
I can cite our award winning research paper that first acknowledged the transformative potential of mindfulness. This research paper highlighted the importance of going beyond meditation to cultivate the space for insight, which weakens our habitual patterns and creates opportunity to make better choices. In my next project – a book chapter on the Paradoxes of Teaching Mindfulness in Business – I went further to explore the importance of not just meditation and insight, but also actively developing skillful habits – thoughts, speech, and actions that enhance the long-term well-being of all involved.
While my own publications in business and education and others' research in neuroscience give credibility to this mindfulness-based framework, it is really the thousand of hours of meditation practice, learning from some of the best teachers including Dr. Jon Kabat-Zinn, Joseph Goldstein, Sri Sri Ravi Shankar, Mirabai Bush, Mark Coleman, Tyohar, and Arthur Zajonc, and my professional training from some of the best mindfulness institutions in the US that have helped me get here.
I also want to acknowledge the role models in my life including my father and grandmother who have lived mindfully without knowing the word mindfulness.
Course Curriculum
What you need to know before you start
Available in days
days after you enroll
Week 1: Reset for Awareness-A Fresh Start!
Available in days
days after you enroll
Week 1 Day 2
Available in days
days after you enroll
Your Instructor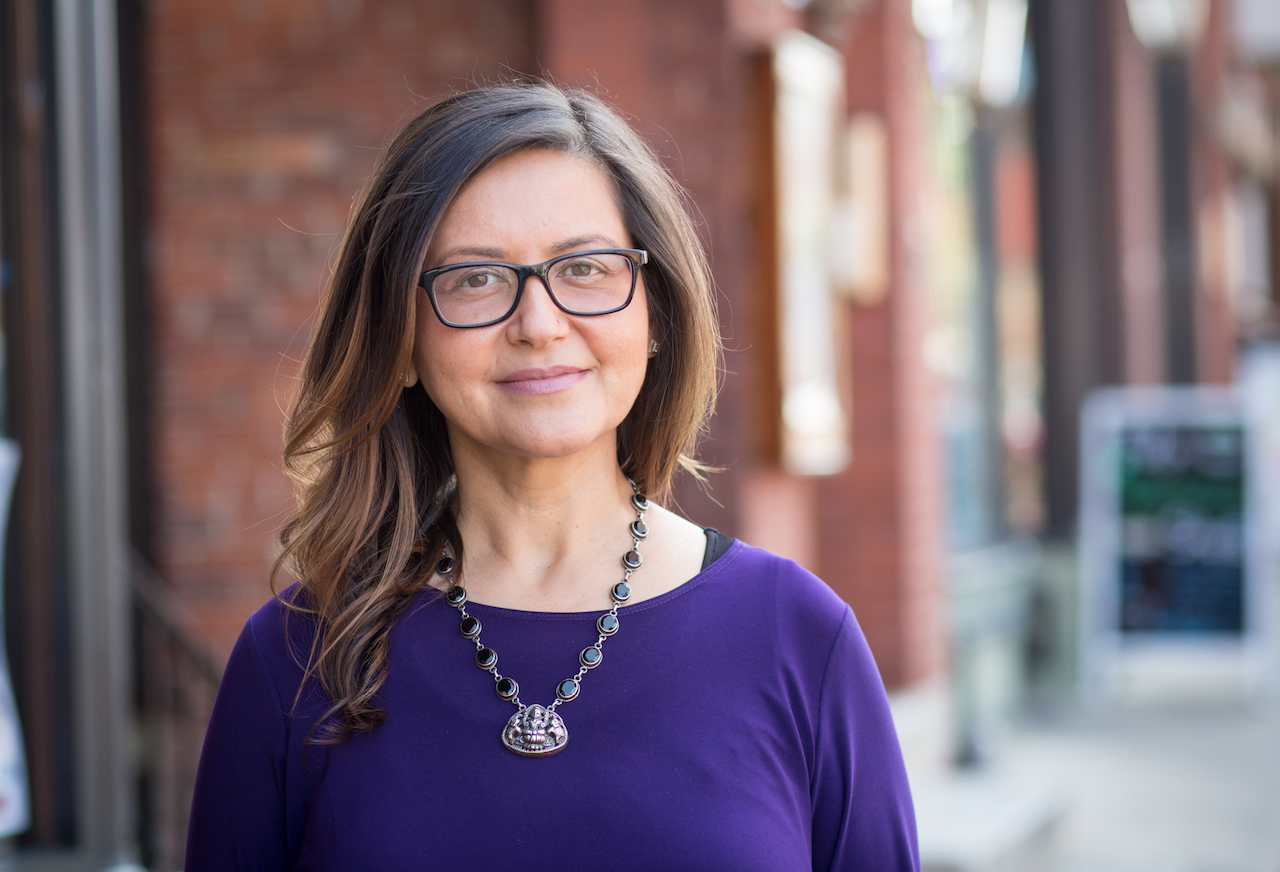 As the founder of KnowYourMind.training and Affiliated Expert at the Isenberg School of Management, UMass, I am an advocate for mindfulness in business, higher-ed and society. I am committed to integrating the transformative potential of mindfulness in education, business and policy to revitalize classrooms, organizations and communities ( Read our award winning paper in a premier marketing journal). My guided meditations appear on the Simple Habit app and Insight Timer.
With a doctoral degree in marketing from the Isenberg School of Management, UMass Amherst, my research on self-awareness and mindfulness has been published in premier marketing and public policy journals. Through my organization, KnowYourMind.training, I design and deliver mindfulness-based solutions that address organizational challenges. In my studio, Downtown Mindfulness, I love co-creating a community to promote mindful living. I was recently elected to be District Councilor in the inaugural Town Council in Amherst, MA.
I have been practicing mindfulness for over fifteen years and received professional certification to teach mindfulness from the Center for Mindfulness at UMass Medical School and the Search Inside Yourself Leadership Institute, an mindfulness and emotional intelligence organization born at Google.
When I am not working, I love all kinds of creative projects, cooking, being in nature, meditating and Zumba.

Frequently Asked Questions
When does the course start and finish?
The course starts now and never ends! It is a completely self-paced online course - you decide when you start and when you finish.
How long do I have access to the course?
How does lifetime access sound? After enrolling, you have unlimited access to this course for as long as you like - across any and all devices you own.
What if I can't afford this program?
My goal is to make mindfulness accessible to anyone who is committed to practicing and can benefit from the programs I offer. If you can't afford this price, please email me at
[email protected]
with your request and I will work with you to make this program affordable for you.